Volunteer Shout Out: A Message from our CEO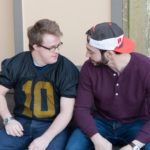 Rarely has mentorship, friendship and connection been more essential than it is today, especially for those individuals who need it most. And happily, we at Jewish Big Brothers Big Sisters of Greater Boston provide such mentorship to the children of our community through our Children's and LGBTQ+ initiatives, and friendship to our adults with disabilities in our community through our Friend2Friend Program. But the selfless heroes who provide such one to one connection and meaning to our clients are in fact our cadre of 379 committed and compassionate volunteers who never cease to be the empathetic lifeline to our Littles and Adult Friends. Our loyal JBBBS volunteers are always there for their matches, whether virtually or socially distanced, and "superhumanly" and simultaneously instill joy and alleviate the loneliness and isolation experienced all too often by our clients and their families.
On behalf of all of us at JBBBS, I salute our volunteer "first responders," who give so much of themselves to help those less fortunate than they are. For some representative, first person accounts of the tremendous impact JBBBS has had upon both our volunteers and their matches, please read the three heartwarming blogs below written by three of our volunteers and recently published in JewishBoston.com.
Marissa Birne (CHILDREN'S Volunteer) www.jewishboston.com/finding-friendship-as-a-jewish-big-brothers-big-sisters-volunteer/
Kelvin Sanborn (LGBTQ+ Volunteer) www.jewishboston.com/on-being-here-to-help-a-queer-kid/
Matt Lebovic (F2F Volunteer) www.jewishboston.com/finding-magic-with-jewish-big-brothers-big-sisters/
Marissa, Kelvin and Matt, I could not have said it any better, and indeed, your words and experiences speak for themselves. I am so proud to include your magnificent posts in my JBBBS community message. My heartfelt thanks to the three of you, as well as to your 376 other counterparts in our program.
And suffice to say, there are so many children and adults in our community on our waiting lists who need volunteers just like you! If you are interested in learning more about volunteering at JBBBS, please visit our website at www.jbbbs.org/volunteer , or contact Tania Gray, Outreach Manager, at Tania@jbbbs.org. And suffice to say, there are so many children and adults in our community on our waiting lists who need volunteers just like you! Have a wonderful weekend, and stay healthy and masked everyone! Jeffrey