On May 25th, 2022, we held our first in-person fundraiser since the start of the pandemic. Over 250 community members joined together to support JBBBS and raise money for the hundreds of children, adults with disabilities and families we serve. We are overwhelmed by the passion for our work and grateful to be in an even stronger position to support both our clients and our volunteers.
To all who attended the event––thank you for celebrating the power of friendship and one-to-one relationships. For those of you who would still like to contribute, please visit our website to
make a donation
.
We extend a BIG thank you to our dedicated co-chairs. Additionally, we are deeply thankful for the sponsors who made this event possible.
Lastly, there is currently a long list of children in need and adults with disabilities awaiting matches. We encourage you to
learn more
about volunteering or
contact us
.
Thank you to all who have made this BIG Bash such a success
Check out pictures from the big night!
Highlighting five of our most impactful initiatives. We are thrilled to have such dedicated leaders representing these programs.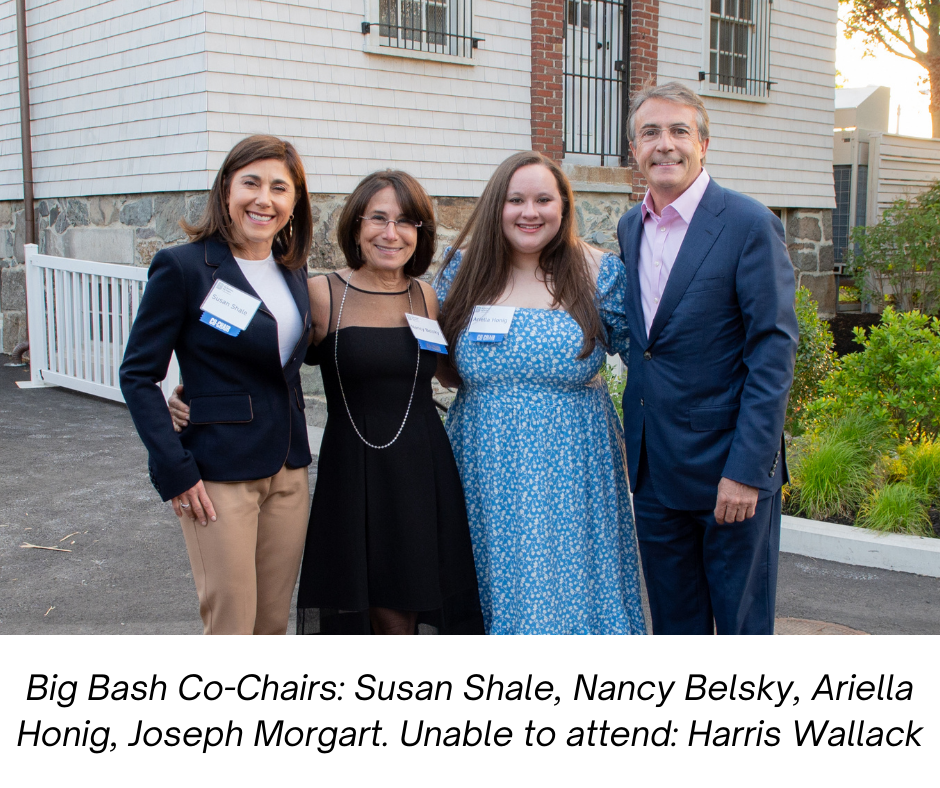 Friend 2 Friend - Susan Shale

JBBBS provides adults with mild to moderate disabilities the opportunity to make new friends, socialize, stay active and be connected to the community.

Children's Program - Ariella Honig

JBBBS' comprehensive mentoring program pairs children with a Big who provides role-modeling, encouragement, and friendship.

LGBTQ+ Initiative - Nancy Kaplan Belsky

JBBBS pairs LGBTQ+ youth with LGBTQ+ identified mentors who can uniquely empathize with and support youth through similar lived experiences.

Type 1 Diabetes Initiative - Harris Wallack

A new JBBBS program which pairs children with Type 1 Diabetes with an adult mentor with Type 1 Diabetes who can provide support and inspiration.

Endowed Scholarships - Joseph H. Morgart

Each year, JBBBS awards more than $300,000 in camp and college scholarships funded largely from the JBBBS Endowment.
Peter Antoszyk &Wendy Perlman
Jessica & David Aronoff
David Bamel
Michael & Lori Bass
Steve & Michelle Bearak
Debby & Erik Belt
Cindy & Mark Blotner
Annika Bockius-Suwyn
Lauren Bogart
Jaime Brody
Jake Bronstein
Leslie & Mitchell Cohen
Lisa & Arieh Coll
Casey Duff
Michelle & Adam Eisenberg
Alyssa & Daniel Elfman
Mark & Pamela Fisher
David Franklin
Allison & Andy Friedman
Laurie & Paul Gershkowitz
Denise & Andy Goodman
Angela and Will Gordon
Larry Green
Marcy & Bob Haber
Rabbi William Hamilton
Elliot & Kimberly Herman
Betsy & Ed Jacobs
Josh Jick
Audrey & Jack Kadis
Karen & Brett Kaplan
Jeff & Jill Karp
Lisa Kessel Freedman & Josh Freedman
Victoria & Daniel Klein
Marcia & Alan Leifer
Carolynn Levy & Alan Sharaf
Jeff Maimon
Elyse & Ben Marsh
Alexander Morgart
Lauren Pyes
Arlene & Sanford Remz
Betsy & Steve Rosen
Jill Hai & Marc Rubenstein
Jake Rubin
Gail & David Schechter
Rod Shale
Judy & Mark Shankman
Sharon Shapiro
Debbie & Allen Sheldon
Barrie & Steve Silk
Karen & Steven Sisselman
Madison Louis & Jonathan Soyt
Rose Shapiro & Stephen Tankel
Beth & Zack Tuck
Marissa & Zachary Wainwright
Eric & Emily Yale
Susan & Jonathan Yorks