An autistic connection: a friendship fueled by shared experiences
by Shea Belsky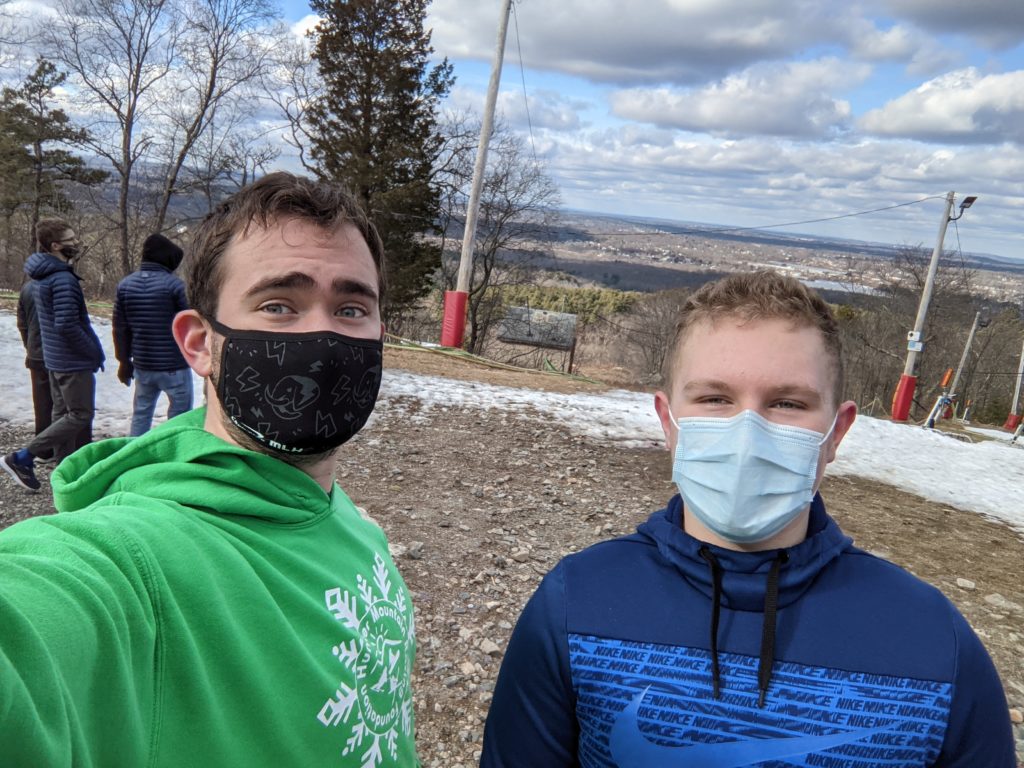 When I first reached out to JBBBS in April 2019, I had a clear idea of who I'd be a great Big for. I'm Shea Belsky, an autistic 25-year-old who has been through the public school system. I had an IEP, physical therapy, speech therapy, a psychologist, a one-on-one aide and much more. The first time I spoke with the Caitlin at JBBBS, I told her about myself and how I could be a great match for an autistic little. A few months later, I met Sam and his mom for the first time. And, a little while later, we were competing with each other in the JCC's gym!
Sam and I both love to be active. He's a star athlete in the Special Olympics and often the MVP of his football and basketball team. If there's a hoop, chances are high that Sam is going to aim for a slam dunk! Our outings have taken us all over, from go-karting to mini-golfing. We've even gone to Nashoba Valley's haunted hayrides, which was quite the spooky experience!
The pandemic didn't slow us down – we just took it outside! Kayaking on the Charles River, hiking at Blue Hills, shooting hoops in his backyard, going to JBBBS' Food Truck Festival…we did it all! Once things got safer for us to go indoors, we started exploring some awesome restaurants in the area. Sam's favorites right now are The Friendly Toast and The Painted Burro.
What makes our match special is how much I can empathize with what Sam is going through. So many of his experiences are similar to mine, and he can be real with me about what's going on. It's different for us as two autistic people to talk with each other than it is in a clinical setting. When Sam talks about how he's feeling or about a specific event, I can unlock valuable insights for him that only someone with autism would have. That enables Sam to get so much out of the match!
Whether it's getting down to business with Sam in the gym, finding cool new spots to eat around the Boston area, or hanging out over dinner, I'm so glad that the two of us met! Getting to be a Big Brother has been an amazing experience for me as well. I've gotten to explore so much of the Greater Boston area because of Sam. He has also given me the chance to connect with another autistic young adult, something that's pretty rare for me. He turns 18 this year, and graduates high school at the end of next year! I can't wait to celebrate both huge milestones with him!
---
Shea Belsky is the CTO of Mentra. Mentra is a neurodivergent-friendly talent platform that intelligently matches neurodiverse individuals with employers that value their strengths. Mentra puts recruiters in front of candidates rather than forcing them to navigate through the challenging process of finding a job. Shea lives with his fiancé, Ariana, and their two cats Sugar Plum and Bailey, in Dedham. He graduated from Cornell University in 2018 with a BS and MPS in Information Science. In his free time, Shea loves to go running, skiing, and cycling.