My Inspiring Friend 2 Friend Match
by Shiri Frydrich-Barniv and Faith Hoffman
In February 2020, I was working full-time in a High-Tech company, with two young kids, a husband who works 24×7, and a home to manage. I thought it would be hard to find the time to volunteer. Then, I found that JBBBS offers a plethora of volunteering opportunities that are very flexible and manageable – yet meaningful – even for a busy working mom!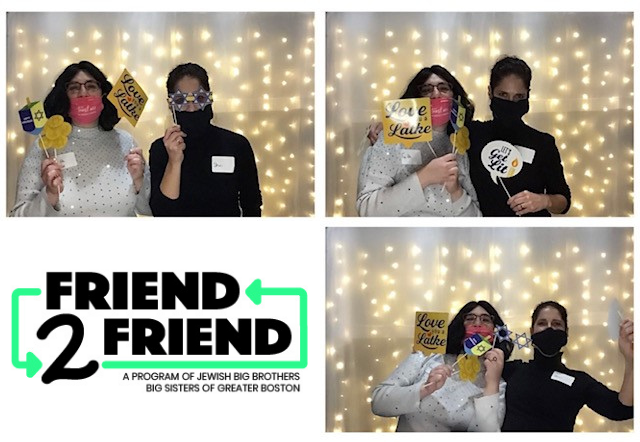 I was excited to be matched with Faith Hoffman, a long-time JBBBS and Friend 2 Friend member. I was happy to find out that we not only shared the same age, love for Italian food as well as coffee & donuts, and traveling to Israel, but we are also both quite stubborn when it comes to achieving what we want. Even though Faith was diagnosed with Epilepsy at the age of 4 and has some other disabilities, that never stopped her from "doing things on her own" and leading a full and meaningful life! She attended college for 3 years (Bunker Hill Community College), achieved a para-librarian certification, obtained a manicuring license, and had been working and volunteering in many synagogues in the Boston and Concord areas.
Since COVID, volunteering and work opportunities for Faith became almost extinct. However, true to her character, this situation hasn't deterred her from staying active and caring for others – she's been keeping herself busy with 'Having a Voice Boston,' a group she established in November 2013 with the help of JBBBS and her parents.
Having a Voice Boston is dedicated to people from all walks of life. Faith's goal was to create a group for people with mild disabilities, helping them become more independent, providing them social and educational opportunities, and providing them a place where their voice – which is too often ignored – can be heard. As Faith said best, she "…felt that many of the organizations did not meet the needs of the people (with disabilities). They did not let them think for themselves or do things that allowed their social ability to come through. Independence is very important for learning. We all need help, and it is out there if people will take the time to care about one another." Her dedication and ongoing work to assist others and impact their lives in a positive way has been a constant inspiration for me! (You can learn more about Having a Voice Boston at https://www.jewishboston.com/organization/having-a-voice/).
Whether it's just talking via a phone-call or zoom meeting, or meeting in person for a cup of coffee, or going together to a JBBBS event, I'm happy to keep our connection and friendship going and be there for Faith as an extra ear to listen and offer support. The benefits and inspiration for me are clear, and as Faith stated to me, she too highly recommends that any person with a disability explore the F2F program and the JBBBS organization because it can improve one's social life in many ways.
F2F and my connection with Faith made me realize that people can still rise above great challenges and be there for someone else and brighten their lives, even if just a bit. Follow Faith's recommendation – "get involved, it is good for you and look at the good you can do for others."