"What's in a Name": How My Favorite Name Came Full Circle
by Bradley Baskir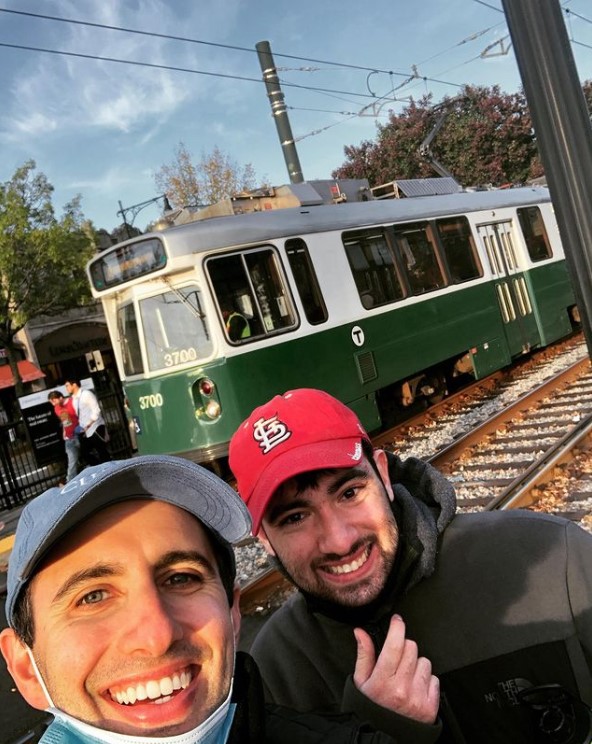 "What's in a Name?" – it's a famous line uttered by Juliet in Shakespeare's 'Romeo and Juliet' stating that a name is just a name and its meaning is utterly irrelevant when it comes to the person who holds it.
But my experience has been different. There has always been something to the name "Zach" for me, dating back to my 5th grade days at Solomon Schechter Day School in Newton.
Here's how it all started – as part of the 8th grade-5th grade mentorship program, each 5th grader is assigned an 8th grade mentor for the year. I remember the excitement of finding out which "Cool" 8th grader we'd all be assigned to.
I had the fortune of being assigned Zach Gray, eldest son of none other than Tania Gray, Director of Community Engagement and Outreach at JBBBS of Greater Boston (small world!). I remember having seen Zach around the upper school campus and thinking how cool he was. When you're in 5th grade, one tends to idolize the upperclassmen in the school and I felt like I was given the best possible match for this program.
From that year onward, when I was just 11 years old, I started to tell people that my favorite name, beside my own, was "Zach". It just exudes coolness. I mean, does "Zach Attack" not sound awesome?! I kid you not that I told my now wife, who at the time was just my girlfriend, that I wanted to name our first born son Zach if we had the chance to do it. So yeah, I kinda grew to love the name Zach over the last 20 years of my life.
So that brings me to May 2021. Joining JBBBS as a volunteer was something I was humbled and privileged to be a part of. I went through the standard interview and screening process by the case managers to ensure that I was matched with the best fit for a Friend and sure enough, a match was made: a Needham-based 20-year old by the name of…wait for it…Zach!
Talk about good fortune for yours truly, huh? I could not wait to meet Zach and tell him how much I am obsessed with his name! On the first call we had over Zoom (boooooo COVID!), one of the first things I mentioned to Zach was how cool his name was, if he didn't know it already. It all felt full circle to have had a mentor named Zach as a 5th grader, and now here I am being matched with a new friend named "Zach".
New Zach is now 21 years old and we have an amazing relationship. He is a young man of few words, often leaning on his comfortable 2-3 word responses, but I can see in his eyes how much he enjoys the engagement and the friendly banter we have back and forth. We were finally able to meet in person in late October, and we did what Zach loves to do most: watch Green Line trains roll by while sitting at a station in Coolidge Corner. That in-person encounter will likely be a turning point for our relationship because now Zach and I have a level of rapport that is difficult to organically create across a screen.
I am grateful to the entire JBBBS team for a perfect match with present-day Zach, just as I had a perfect match with Zach 20 years ago.
Now if only I could get my wife on board for the "Zach" name for our first son…
---
Bradley Baskir is financial advisor at Morgan Stanley in Boston and a former management consultant. He grew up in Newton, and now lives in Brookline with his wife, Aliza, and 1-year old daughter, Abigail.