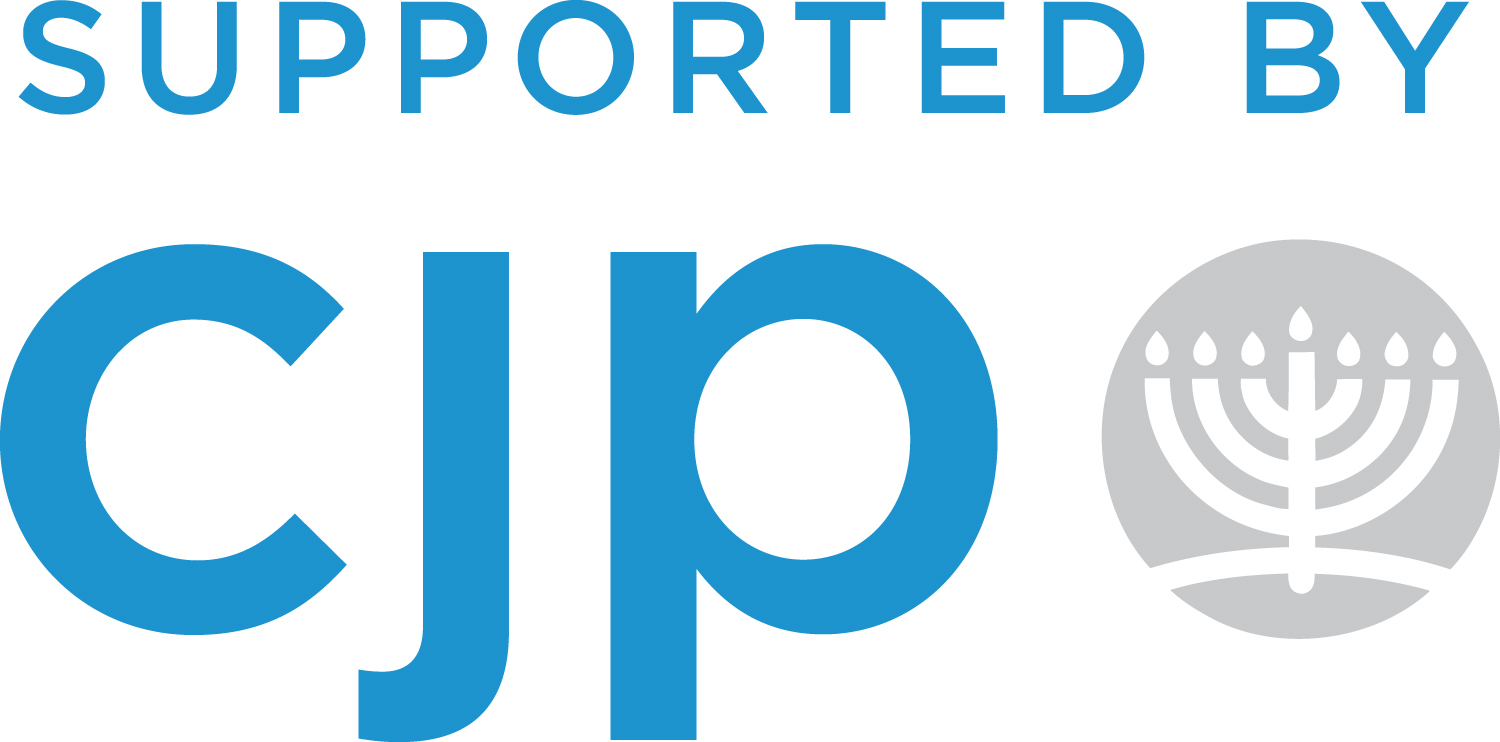 Yom Sport 2021 is Sunday, September 12th, from 10:30-2pm at the Solomon Schechter Day School, 125 Wells Ave, Newton. Check back soon for more information.
Yom Sport is BACK for Fall 2021! Jewish Big Brothers Big Sisters and Combined Jewish Philanthropies are thrilled to invite athletes and volunteers back in person for the 25th Annual Yom Sport. Yom Sport provides Athletes with disabilities throughout the Greater Boston community an opportunity to come together and participate in a variety of sporting events. Volunteers serve as team and event leaders, coordinate refreshment and photo stations, and help make the day run smoothly.
Yom Sport serves many purposes for the local community, including the opportunity to make new friends, raise awareness, recognize similarities among people with different abilities, and gain a new perspective on one's own life. Most importantly, we have a lot of fun!
JBBBS and all other event organizers are closely monitoring the evolving situation with the COVID-19 pandemic. We anticipate being able to provide a safe, fun, in-person outdoor event for Yom Sport 2021!
Yom Sport 2021 COVID Guidelines
Yom Sport is planned as an entirely outdoor event. Hand sanitizer will be provided throughout the event space, and attendees are encouraged to be mindful of maintaining social distance where possible. At this time, masks will not be required for individuals who are fully vaccinated, though masks will be provided for anyone who would like one. Unvaccinated attendees are required to wear a mask throughout the event. Lunch will be served outdoors.
In the event of rain, Yom Sport will move indoors to the Solomon Schechter field house. If the event moves indoors, masks will be required for all attendees regardless of vaccination status. Lunch will be packaged for carry-out to avoid unmasking in the field house. Please note that if the event moves indoors, Yom Sport 2021 will end at 1:15 after the distribution of packaged lunches.
Yom Sport 2021 COVID guidelines remain subject to change pending evolving public health guidance and/or changing COVID rates.
9:30 am
Volunteers Arrive (Please be prompt!)
10:30 am
Athlete Registration
11:15 am
Opening Ceremony
11:30 – 1:00 pm
Events
1:00 – 2:00 pm
Closing Ceremony / Lunch
The day's events will conclude at 2:00 pm
Our goal is to offer people with disabilities a day of excitement and physical activity, a sense of reward and accomplishment, and the chance to form friendships with people with and without disabilities. It is also a way for our community to reach out to unaffiliated adults with disabilities who live in residential programs; to connect them with our community; and to make it possible – and interesting – for them to participate in the other activities, programs and services that our community offers.
Yom Sport is all about having fun, making new friends, gaining a sense of pride, and performing acts of loving kindness. Many of our volunteers (and athletes) love it so much they come back year after year. Yom Sport is a great way to get involved and help build a strong, caring community.
Volunteers provide invaluable assistance throughout the day by leading teams as captains, awarding medals, helping teams prepare for events, providing one-to-one assistance, and a variety of tasks that help make the day run smoothly. Check back soon for information about signing up to volunteer for Yom Sport 2021!
Alissa Brill has volunteered with Yom Sport for 5 years. She currently serves as a Co-Chair on the Yom Sport committee and is also a Big Sister at JBBBS. When she is not volunteering, Alissa can be found staying active, playing with her dog, cooking and planning her next big trip.
As Yom Sport celebrates its 25th anniversary, why do you think this program is important to the community?
Yom Sport brings so many people together who might not otherwise interact with one another for a fun, meaningful day. It's a wonderful co-sponsorship between JBBBS and CJP that has an expansive reach. It is an event that athletes and volunteers alike look forward to year after year. There is no other event like it!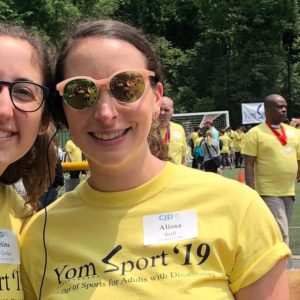 What is your wish for Yom Sport for the next 25 years?
I wish for Yom Sport to continue for the next 25 years (and beyond). I hope that the event will be able to change with the times, and also to get bigger and better with a more widespread reach.
What would you say to those who support the program with their donations and/or time?
From the bottom of my heart and from all those who participate in Yom Sport, thank you! Just take a look at the pictures of the event and you can see the direct impact of your generosity. Whether it be a small donation or just one person volunteering their time on the day of, it is just one piece of the puzzle that makes Yom Sport the amazing event it is. 
Each year, Combined Jewish Philanthropies & Jewish Big Brothers Big Sisters come together to plan Yom Sport. Volunteers, age 21+, of all backgrounds are welcome to join us. Learn about the different volunteer roles below.
There's a role for everyone at Yom Sport. Each volunteer role is essential to creating an inclusive environment and making sure the day runs smoothly.
Team Captain

Help team create team name, flag, and team cheer. Keep team together/ monitors whereabouts. Bring assigned team through the rotation of events. Keep track of team results and hand out medals. Cheer on the team!

Event Leader

Explain the event and rules. Organize event and teams coming through the event. Hold onto the medals until it is time for the Team Captains to hand them out. Help organize equipment for event. Give encouragement to the athletes.

Refreshments

Water and snack distribution. Walk around and provide (as needed) to teams. Assist with lunch buffet.

Photo Station

Assist with station set-up, print out pictures, put in frames, sort in team piles. Distribute photo frames as needed at end of event.
Our dedicated executive committee is made up of volunteers who plan and participate in the event, and have been involved for many years.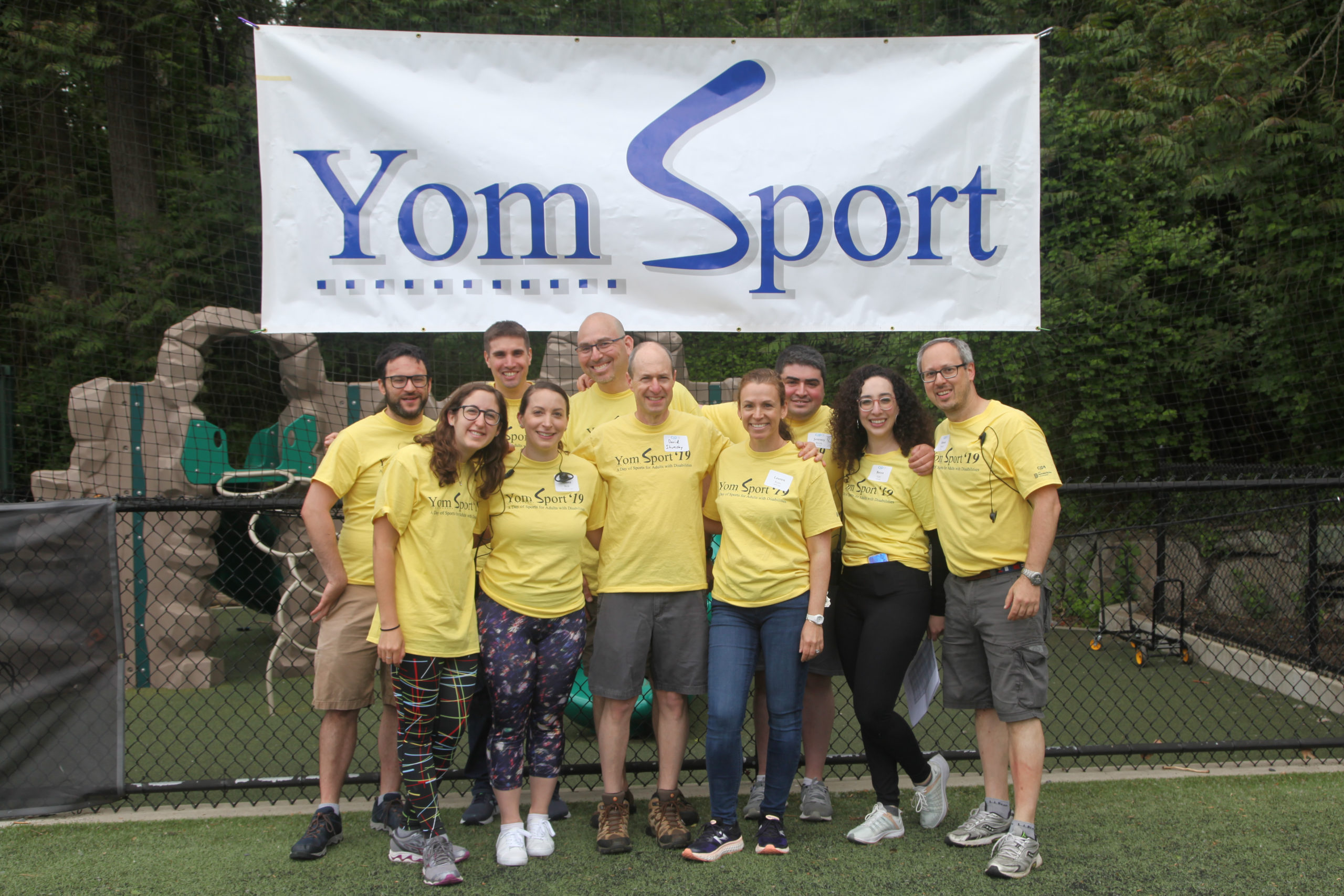 Lauren Korn, JBBBS
Jeremy Sutherland, JBBBS
Rachel Zylberfink, CJP
Howie Hecht
Alissa Brill
Jeremy Brick
David Shumsky
Dan Greenblatt
Marc Rosenblum
Lauren Mandell
Elliot Herman
Brian Coonley
Angela Waring
Yom Sport is funded by a CJP allocation, Jewish agency contributions, and gifts from friends, neighbors, individuals and other organizations. Donations of any amount are welcomed and appreciated! On behalf of our executive board, volunteers and athletes, thank you.
To support Yom Sport, please make a donation to Jewish Big Brothers Big Sisters. Or, if you or your organization are interested in becoming a sponsor for Yom Sport 2021, please reach out to Lauren Korn at lauren@jbbbs.org!